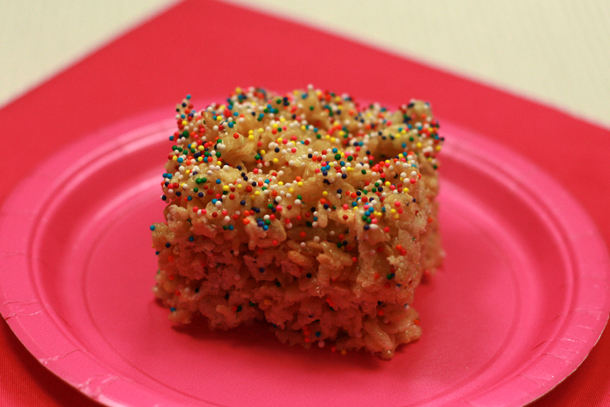 Some days just require something with sprinkles. Sprinkles = happiness. You just can't be sad while eating something covered in sprinkles. So, when the winter weather has you glum, or your favorite TV show is on hiatus for a week, or you feel blue for no real reason whatsoever, whip up a quick batch of these cake batter rice krispy treats. They not only have sprinkles mixed in but are covered in them as well. You are guaranteed to get a load of happiness . . . er, sprinkles in every bite.
4 T butter
4 c mini marshmallows
¼ c yellow cake mix (dry)
5 c rice krispies cereal
3 T sprinkles
Butter 8 x 8 pan. Set aside. Measure cereal into large bowl. Set aside. In saucepan, melt butter over low heat. Stir in marshmallows. Sprinkle in cake mix, a little at a time, while stirring constantly. Continue stirring until marshmallows are completely melted. Remove from heat and pour over cereal. Stir until evenly coated. Stir in 2 T sprinkles. Spoon into buttered pan. Sprinkle remaining sprinkles on top. Let sit for 30 minutes and then serve or cover tightly.
Inspired by: Gimme Some Oven